Today's Pause for Prayer 07-02-2019
Jul 2, 2019
Michael Blank
Category: Prayer Alerts
Ladies and Gentlemen, the history of our nation reveals that in 1775 as the very first meeting of the Continental Congress in Philadelphia at Independence Hall; they had a 3-hour PRAYER MEETING led by the Commander-in-chief of the Continental Army – George Washington!
The BIRTH of our nation started in fervent Prayer, seeking God's Wisdom and God's Revelation Knowledge on how to govern a people that believe in God-Given RIGHTS & RESPONSIBILITIES!
LINK = http://www.wallbuilders.com/libissuesarticles.asp?id=73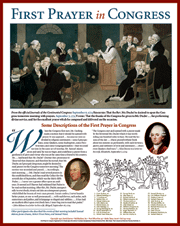 .
These sessions would lead to the writing of the Constitution of the United States of America! If you haven't read these documents in some time, may we suggest that you read them again. We suggest the you read them to your children and your grandchildren, so that they know for themselves how Almighty God has richly BLESSED this country and the people that love FREEDOM!
.
LINK = http://en.wikipedia.org/wiki/United_States_Declaration_of_Independence
.

LINK = http://en.wikipedia.org/wiki/United_States_Constitution
.
Father-God, we PRAY once again for Your Sovereign Divine Hand to move across our land that You have given to us! May Your Mercy – Your Truth – Your Justice and Your Righteousness BE with the people of this land! We humble ask for Your Protection of our lives and property against ANY and ALL assaults of our enemies!
We have taken an oath to "preserve, protect, and defend the Constitution of these United States against ALL ENEMIES, both foreign and domestic."
Without Your HELP Heavenly Father, we are a people lost and without HOPE! However, I CAN DO ALL THINGS through Christ Jesus my Lord, who strengthens me and my family!
As for me and my household, WE WILL SERVE the LORD our GOD!
Amen and Amen!